For my DIY Wednesday challenge, I found a great idea to add to my laundry room makeover: A plywood counter top! This project is not only fancy looking, but very cost effective! I would only spend $100 on the materials, and still have a dreamy waterfall look that cascades over my washer and dryer! I think this idea is a winner! It will be added to the "To Do" list when I finally put the room together. You could even build a fabulous island in your kitchen like this for just a fraction of the cost. Below, I've shared the step-by-step process that you could follow to build your own counter top too:
To make this project you'll need:
(2) 4×8 sheets of plywood (1 premium and 1 not-so-premium)
Wood Glue
Finishing Nails
Wood Screws
Feet
Brackets
Polyurethane
Start by measuring the size that you want your countertop to be. You'll need to leave at least an inch between the top of the washer/dryer and the countertop and an inch on each side. I had some people ask about their dancing appliances. If your washer/dryer move around when they are cycling they need to be balanced better, it shouldn't effect your countertop design. Heck maybe it will help tone it down a little?
It was super important to me design wise to have the wood grain waterfall down the side (so that its continuous) because plywood comes in an 8 foot length you'll want to keep that in mind if you are planning on doing the same! We used the entire 8' length for our countertop.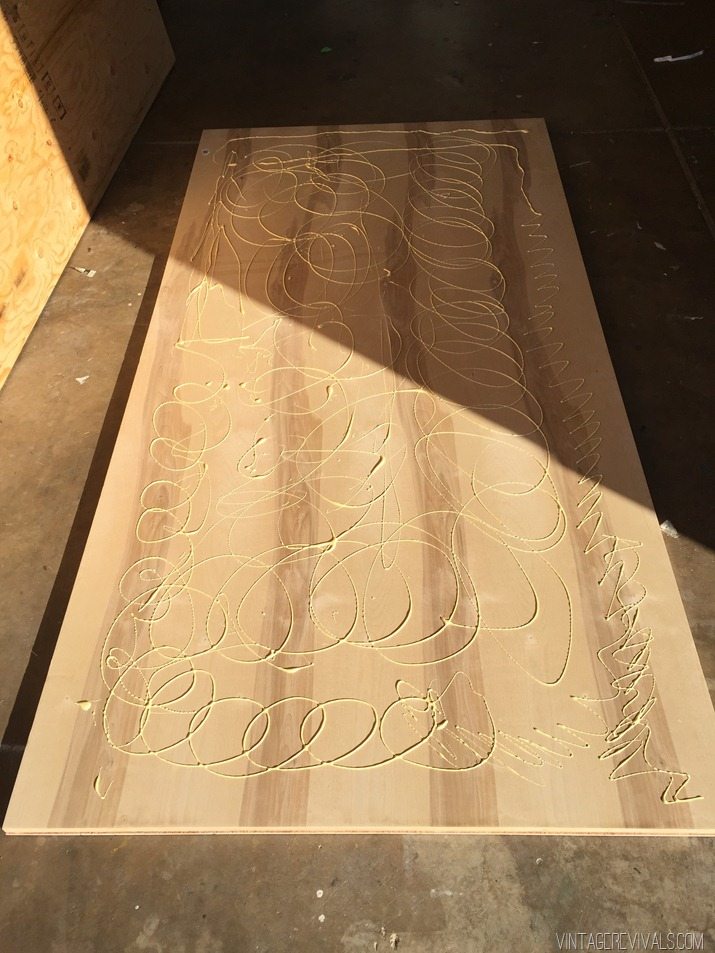 The first step is to glue your sheets of plywood together. You'll need 1 sheet of premium plywood (ours was Birch) and one sheet of regular plywood. Using the regular plywood on the second layer will save $, which is always a good idea. We started by gluing together the sheets of plywood with Titebond III wood glue and letting it cure for 48 hours. You can use wood clamps to hold it together while its curing, or you can use screws. If you are using screws, just make sure that they aren't placed where you need to make your cuts!
Once everything is dry, use a table saw to cut it to size. Make sure that the side that waterfalls down is cut at 45 degree angles so that they match up! (You'll do this by setting your saw blade to 45 degrees before you make the cut!)
We didn't attach the corner together until we were installing the countertop. I didn't want the waterfall side of the countertop mounted to the brand new tile, so to stabilize it we used feet. That way they could be adjusted to the exact height and easily level everything out.
To brace the countertop we installed 2×4's into the studs along the back wall and corner brackets along the side wall. Make sure that they are level and at least an inch above the height of your washer and dryer.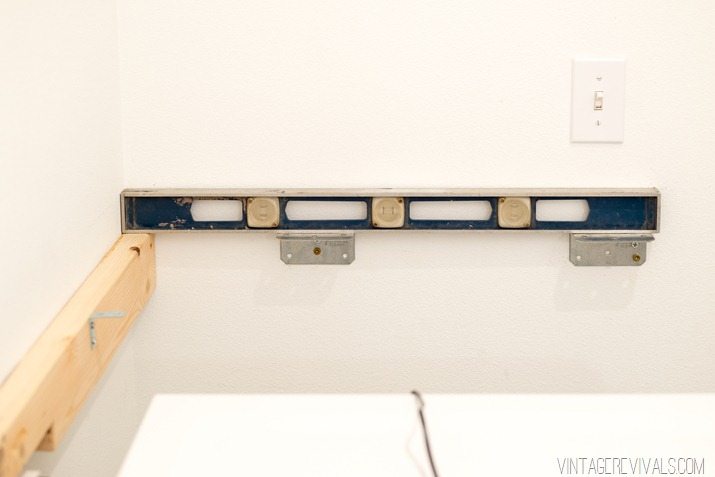 We secured the top of our countertop to the brackets using wood screws. To join our 2 pieces to make the waterfall, we put brackets on the top piece and secured it to the side of the vertical piece. Once everything was installed I gave it a light sanding with 220 grit sandpaper to smooth everything perfectly and applied a coat of Triple Thick Polyurethane.
*Thank you Mandi from vintagerevivals.com for this week's DIY idea
If you decided to try this in your space, please remember to share pictures and your experience. We want to know if it was easy to accomplish. Don't worry, when I finally try this project out, you will be the first to know! Happy Wednesday everyone!