Pasta anyone? Something easy for the weeknight lazies we've been feeling, will prove to be your best bet on a night like this. Taking everyday ingredients, and whipping them up into a delish meal that everyone will think you slaved over all day, is the look you're going for! You don't want to make a salad? Then throw your veggies into the main dish! That way, you get the best of both worlds without much hassle. May I present to you: Primavera Pasta, inspired by the "Olive Garden."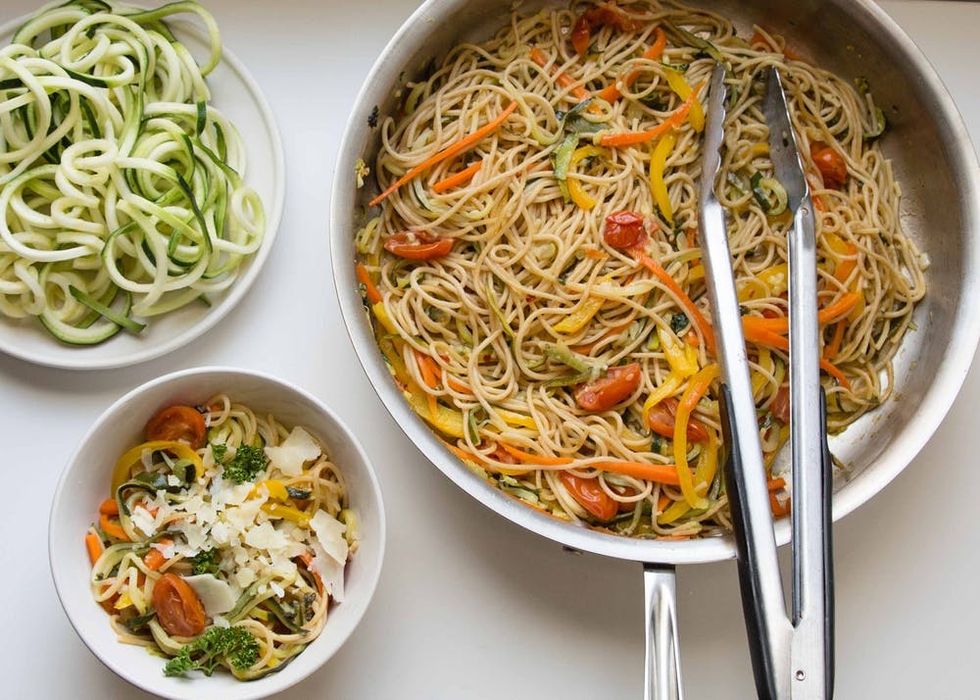 Zoodles Primavera RECIPE
(Serves 4)
Ingredients:
4 ounces whole grain spaghetti
2 Tablespoons unsalted butter
1 Tablespoon olive oil
2 zucchini, spiralized into zoodles
1 carrot, peeled and sliced into thin long strips
1 yellow bell pepper, cored and sliced into thin long strips
1 large clove garlic, minced
2 Tablespoons chopped fresh parsley leaves, plus more for garnish
2 teaspoons kosher salt, divided
10 grape tomatoes, halved
dried red pepper flakes
1/4 cup white wine
grated Parmesan, optional
Instructions:
Cook the pasta according to package directions. Reserve some pasta water.
While the pasta's cooking, add the butter and drizzle the oil into a sauté pan set over medium heat.
Once the butter has melted, add the zoodles, carrot, bell pepper, garlic, 2 tablespoons of parsley, and 1 teaspoon kosher salt to the pan. Stir to coat. Add the tomatoes and red pepper flakes. Pour in the wine and add the remaining teaspoon of kosher salt. Cover to simmer for about 2 minutes or until the zoodles look slippery.
Add the pasta to the pan along with 2 tablespoons of the pasta water. Stir with tongs for a minute or two, until the dish comes together and the liquid has mostly cooked out.
Sprinkle a dash of the remaining parsley onto each pile of plated primavera noodles, as well as Parmesan, if using.
*Recipe taken from brit.co
Doesn't this make you a little hungry? I thought it would. What if you want to be daring and add a little protein to the pan? I don't see why not. It's your world, and your kitchen. Let your imagination run wild! This whole dish should not take you more than 45 minutes from start to finish if you plan it out right. Don't forget the white wine! This is the key ingredient to that burst of flavour you can savour.
If you don't like using wine, try using white wine vinegar, but only a tablespoon. It still manages to bring life to your dish. Although we love our kitchens, when it comes to the pressures of a creative weeknight meal, we could all skip out on that. However, this meal allows a quick cook and go, but guarantees a comeback for seconds. Try it out and see how well it works for you. Happy Tuesday everyone!