Are you ready for the long weekend this weekend? I sure hope so! It is all about bbq and fireworks! Well, maybe those sparklers instead of fireworks, if you're not feeling that brave to set them off in your backyard! There is a lot to celebrate this weekend. It seems as though there will be a bit of a lift on our quarantine, as retail is slowly opening up again this Tuesday. Now, things won't be 100% normal, but it will definitely be well on its way. Social distancing is key to keeping everyone safe, so keep it in mind this weekend when you make your plans. I've got bbq recipes and games that will be fun to do with your family this weekend, or online with friends. Check it out:
Grilled Jerk Chicken
INGREDIENTS
1 small yellow onion, cut into large chunks
2 scallions, quartered
1 Scotch bonnet or Habanero chili pepper, seeded and roughly chopped
1 garlic clove, peeled
1 teaspoon Asian five-spice powder
1/2 teaspoon allspice
1/2 teaspoon dried thyme
1/2 teaspoon ground nutmeg
3/4 teaspoon salt
1/4 cup soy sauce (use gluten-free if needed)
1/2 tablespoon vegetable oil
2-1/2 to 3 pounds bone-in, skin-on chicken pieces (thighs, drumsticks or breasts)
INSTRUCTIONS
Make the marinade: In the bowl of a food processor, combine all of the ingredients except for the chicken. Process until the vegetables are finely puréed and the mixture is relatively smooth (the texture will be slightly gritty). Place the chicken pieces and the marinade in a large Ziploc bag; squeeze air out and seal tightly. Mash the chicken around to coat evenly with the marinade. Place the bag in a bowl (in case of leakage) and let marinate in the refrigerator for at least 8 hours or overnight. Allow the chicken to come to room temperature before grilling.
Preheat the grill to medium-high heat. Lightly dip a wad of paper towels in vegetable oil and, using tongs, carefully rub over the grates several times until glossy and coated. Place the chicken on the grill skin side down, making sure it is well coated with marinade for maximum flavor (discard any leftover marinade). Cover and cook, turning occasionally, until the skin is browned and crisp but not charred, about 10 minutes. Turn the chicken pieces skin side up and either turn the heat down to medium-low or move the chicken to a cooler part of the grill. Continue cooking, covered, until the chicken is cooked through, about 15 minutes more. Serve immediately.
Note: Be extremely careful when working with Scotch Bonnet or Habanero peppers. They are extremely hot and if you touch your eyes, it will be very painful. Wear disposable gloves or be sure to wash your hands well when you're done. You can use more or fewer peppers depending on how fiery you like your chicken.
Note: I recommend using bone-in chicken thighs and drumsticks for this recipe, mostly because the flavor is better but also because they are much easier to cook on the grill. Bone-in chicken breasts can be tricky; if you want to use them, look for smaller ones so they won't burn on the outside before the inside is fully cooked. Or you can start them on the grill and finish them in the oven. Serves 4.
*Recipe taken from onceuponachef.com
Avocado and Three Bean Salad
INGREDIENTS
1 (15 oz) can black beans, drained and rinsed
1 (15 oz) can red kidney beans, drained and rinsed
1 (15 oz) can garbanzo beans, drained and rinsed
1 (15 oz) can whole kernal corn, drained
1 large orange or red bell pepper, diced
12 grape or cherry tomatoes, halved
1 bunch cilantro, chopped
2 large avocados, peeled, pitted and diced
juice of 2 limes
1/3 cup olive oil
salt and pepper to taste
2 cloves garlic, mashed or finely diced
INSTRUCTIONS
Mix all ingredients together in a large bowl. Refrigerate for 1 hour before serving.
Note: After cutting up my avocado I tossed it in the lime juice then added the avocado and the juice to the salad. This will help with the avocado not turning brown before serving.
*Recipe taken from nobelpig.com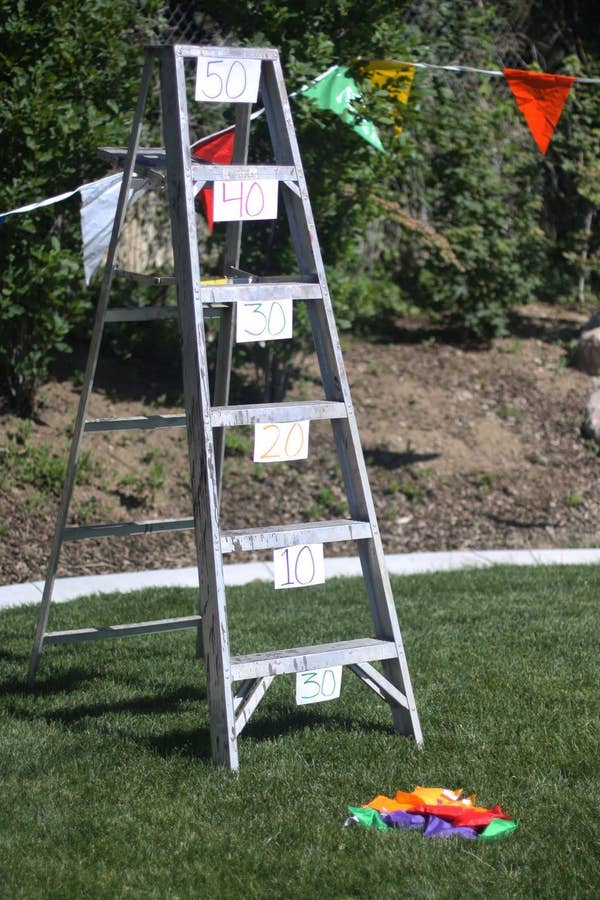 Bean Bag Ladder Toss
Easy to set up and easy to play: grab a ladder from the garage and toss bean bags through the different rungs to earn points.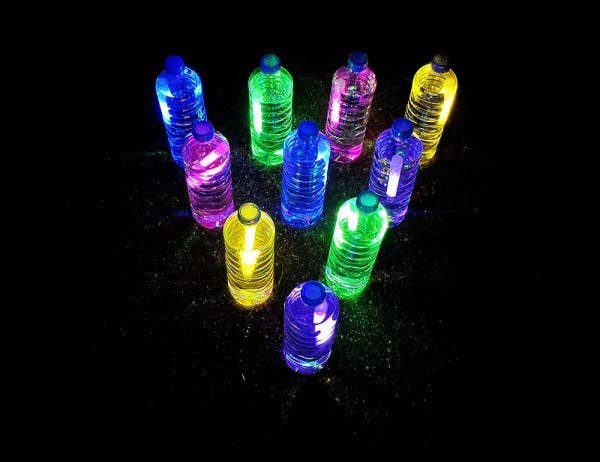 Glow in the Dark Bowling
Add glow sticks into ten bottles of water to make bowling pins you can use at night.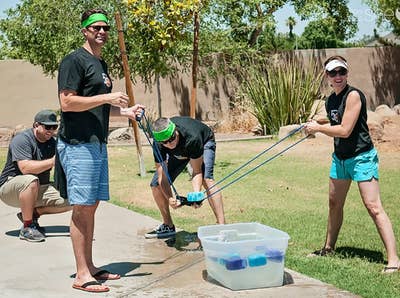 Sponge Launch
Who doesn't like playing with a sling shot? It's just not something that fades with age. In this game, you use one to launch wet sponges at your teammates, who catch them and wring them out into a bucket. The team that fills their bucket with water first, wins.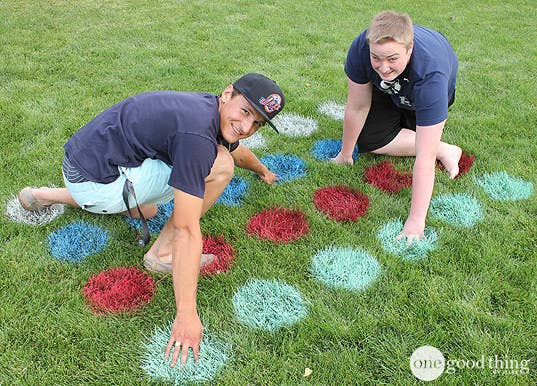 Lawn Twister
Use circular stencils and spray paint to turn your lawn into a game board.
Lots of fun! Even more fun trying to figure out how to play with each other online! This is where creativity takes over, and rules become more interesting;) The food and the fun looks set to go! All that's left to do now is prep. I hope you all have a good time making this long weekend a special one. Happy Friday everyone!