If you're like me, and have succumbed to the realization that not everyone has a green thumb, If you feel the way I do, then this DIY challenge is for you. I have thoroughly investigated the world of silk florals and have come to these two conclusions: 1)Not every silk flower is created equal, and 2) The sacrifice of having the "good stuff" will cost you. Going into the local dollar store and finding a few stems for a vase is okay, but if you want people to be guessing if it's real or fake, you need the real deal! If you haven't already guessed, this challenge is about creating that faux floral arrangement for any space, that would otherwise cost you a small fortune! Here is the task at hand:
Okay, I know you are going to say that this arrangement is a tad ambitious, but anything can be done if it is broken down into steps.
How To Make A Faux Flower Arrangement
Materials: For your base you will need floral foam, floral tape, and a pedestal bowl. For the arrangement you will need artificial leaves and greenery, large focal flowers, and a variety of accent flowers.
Step 1: Begin by cutting the floral foam to fit in the bowl of the container. Tape the foam to the container to keep it in place.
Step 2: Start the arrangement by pushing the artificial greenery into the floral foam.
Use the greenery to create the structure of the arrangement. Artificial flowers and greenery are on wire stems so you can use these to mold the stems in the shape you would like your design to take.
Step 3: To further build the structure of the arrangement add branches, like cherry blossoms.
Step 4: Begin adding your faux flower stems, starting with the largest first.
These real touch peonies and roses have full flower heads and will quickly fill your arrangement. Insert them into the floral foam at the center of the arrangement. Use wire cutters to trim the stems to varying heights.
Step 5: Now begin adding flowers with medium sized blooms.
Continue to build your arrangement and accentuating the asymmetrical shape with these stems.
Step 6: Complete your arrangement with smaller, colorful flower heads to compliment the accents in the larger stems.
Fill in spaces with these smaller flower heads to create depth and add pops of color. Continue adding stems until you are happy with the fullness of your arrangement.
You have now made a lasting arrangement with permanent florals from Afloral.com!
*Faux floral steps and photos taken from afloral.com
Where do we begin? We look for what we do have, and write a list of what will be needed. I'm sure many of you do not have silk flowers like these just lying around the house, so a printed copy of the specific flowers needed for this project would be highly recommended. I can't be sure of the names of most of these flowers, but a picture will sure come in handy. Especially if you walk into a craft shop, and their silk florals look like the following:
This was a Michael's craft store in my local area. I almost had a heart attack when I scanned this aisle! Have you pictures ready folks! This is a madhouse you need to be equipped for! So, you may ask me if this is all worth the fuss. The answer: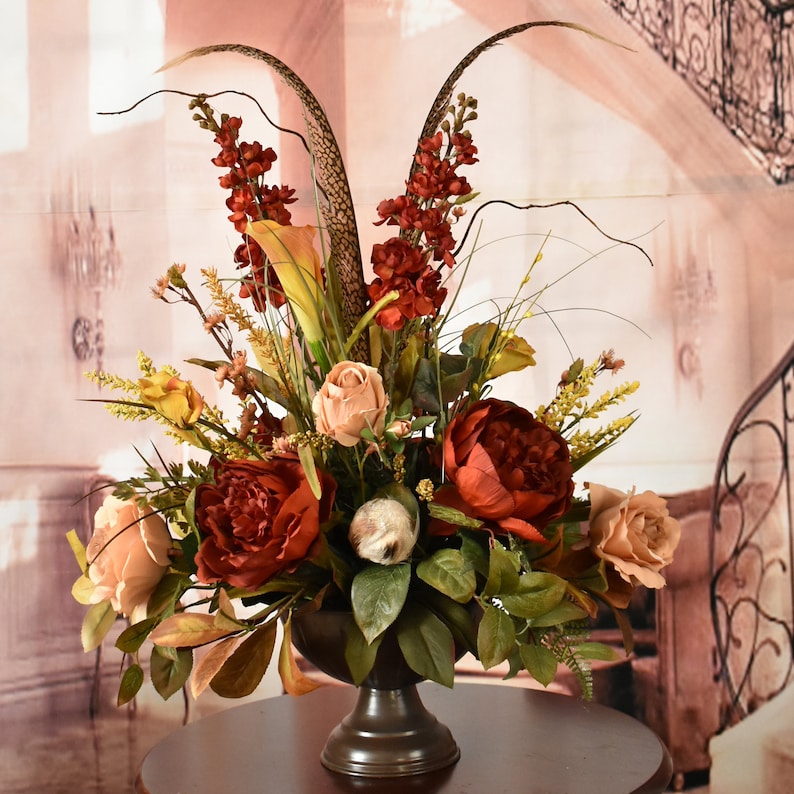 Floral arrangement, $283, Etsy.com
Almost a whopping $300 Canadian for the above arrangement! Right now, Michael's craft store is having a 40% off sale on all of their spring/summer flowers, so there you go! I will be attempting this project just to see if my instincts are right about this one. I will be sure to let you know how that goes! Enjoy the day, and happy Wednesday everyone!