Sunday came and went, and I have done a bit of everything from pulling weeds in the backyard, to cleaning toilets! I even managed to get out for a few hours and shop around with a friend for some furniture. It's the long civic weekend in Toronto, so a proper bbq is in order tomorrow. We will have a few friends over, and the food will be fabulous as usual, with grilled corn and Pineapple Jerk Chicken Kabobs. I'm going for gold everyone! For dessert, I'm making a Red Velvet cake with cream cheese icing, and right about now, I bet you're wishing that you were invited, right? It's okay, I'll do one better and share a recipe with you so that you can enjoy with me: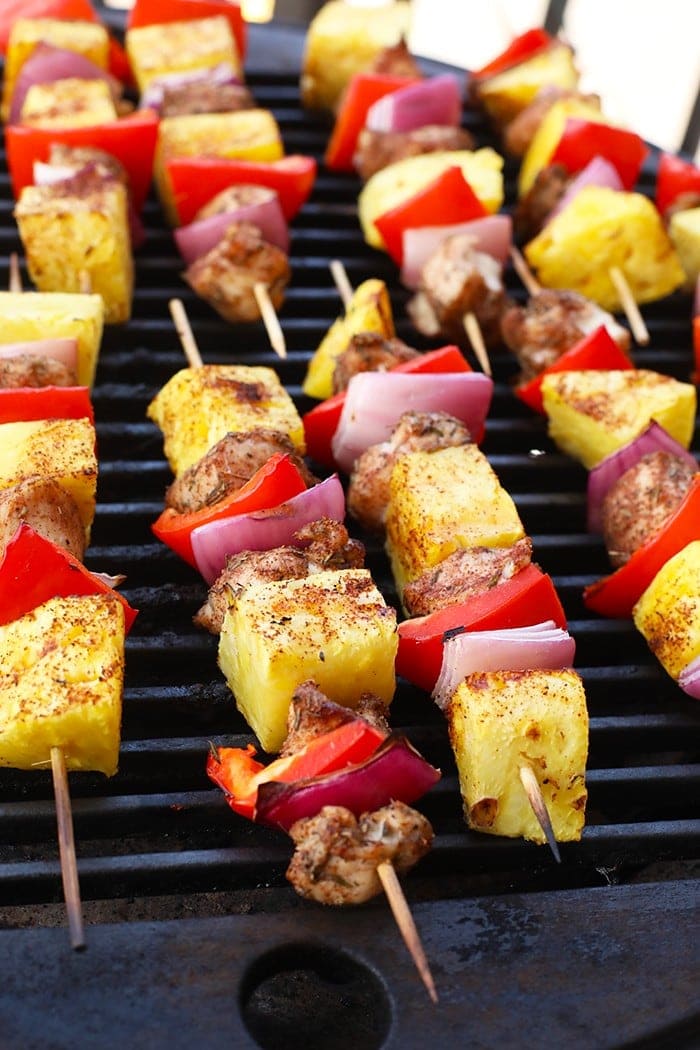 Grilled Pineapple and Jerk Chicken Kebabs
INGREDIENTS
For the Jerk Chicken
1 lb. boneless skinless chicken breast
2 teaspoons dried thyme
1/2 teaspoon allspice
1/4 teaspoon nutmeg
1/4 teaspoon cinnamon
1/4 teaspoon cayenne
1 teaspoon garlic
1/4 teaspoon pepper
1/4 teaspoon salt
For the Skewers
1 large pineapple, cubed
1 teaspoon paprika
Jerk Chicken (from above)
2 large red peppers, cubed
1 large red onion, cubed
INSTRUCTIONS
Preheat grill to 400ºF.
Mix all spices for the jerk chicken into a bowl. Then, massage spices into the chicken breast with your hands. Cut into cubes.
Sprinkle paprika on pineapple cubes and prepare your kebabs by placing peppers, onion, pineapple, and chicken onto skewers (alternating between the four). Repeat until all ingredients are gone.
Set kebabs on the grill for around 20-30 minutes rotating kebabs every five minutes.*
Remove from grill and enjoy!
*Recipe taken from fitfoodiefinds.com
My neighbour was a little under the weather yesterday, and I thought to myself, "He needs a cake, too!" Needless to say, I baked a Red Velvet for him, and baked extra for the bbq. Two birds with one stone is what I call it, and it came in very handy. I now have a happy neighbour, and less prepping for Monday! Fantastic! If you decide to try out the kabob recipe, be sure to take pictures! You know how I love to see your creativity at work! Enjoy your night, and happy Sunday everyone!