A good friend of mine opened my eyes to baking with exotic spices. Her Lebanese culture embraces Tumeric in their everyday cooking. I always assumed that Tumeric was only good for savoury dishes, but she proved me wrong. I was over for dinner at her house the other night, and she prepared a Middle Eastern dessert called, "Sfouf." It is a very simple cake with mild flavours, and little sugar. She served it with Turkish coffee, and I was in Heaven! What a perfect finish to an elaborate Lebanese meal!
Tumeric is the main spice in curry and has a wam, bitter taste that is frequently used to curry powders, mustards, butters and cheeses. This is why it took me by surprise that it could be added to baked goods as well! It is also a healing medicine used to treat conditions involving pain and inflammation, high cholesterol, and heartburn, and the list goes on. There are so many reasons why Tumeric should be your new best friend!
I thought I'd share the recipe with you, so that you could experience the Tumeric-flavoured cake for yourself: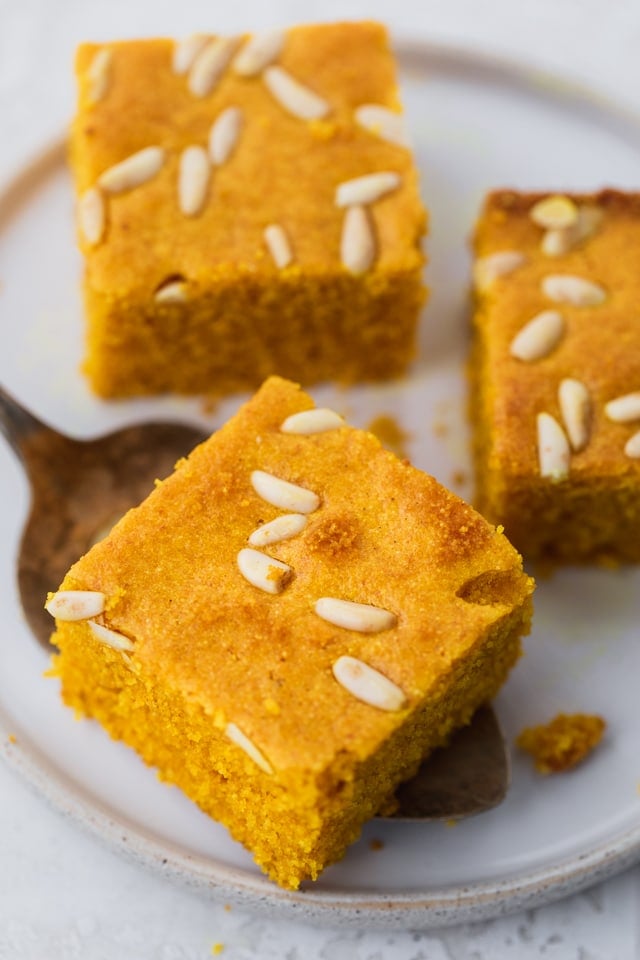 Sfouf (Turmeric Cake)
Ingredients
1 ½ cup coarse semolina or fine, or mixture of both
½ cup all-purpose or cake flour
1 tablespoon turmeric
1 ½ teaspoons baking powder
½ cup canola oil or other neutral oil
1 cups milk
1 cup cane sugar
1-2 tablespoons tahini to grease the pan can be replaced with oil
Handful of pine nuts or almonds
Instructions
Preheat the oven to 375ºF and grease a 9×9″ baking pan with the tahini sesame oil or other oil.
Mix the dry ingredients (semolina, flour, turmeric and baking powder) together in a large bowl.
Mix the wet ingredients (canola oil, milk and cane sugar) in another small bowl until the sugar is completely dissolved in the mixture.
Combine the dry and wet ingredients until batter is smooth and bright yellow. Pour the batter into the prepared pan, and sprinkle the pine nuts all over.
Bake in the preheated oven for 30-35 minutes until the pine nuts are golden.
Cool on a wire rack and cut into 16 squares or diamond shapes.
Notes
Storage: Store any leftovers in an airtight container. They will last about 7 days at room temperature or about 10 days in the fridge.Substitutes: For best results, follow the recipe as is. However here are some common substitutes that would work well in this recipe.
For tahini, you can substitute oil or butter
For the coarse semolina, you can also use fine semolina, but don't use flour instead of semolina because it will not yield the right results
For the pine nuts, you can use almonds. Silvered almonds work well and make sure they are raw since they will be getting roasted in the oven.
Sourcing: You can find some of the Middle-Eastern specific items like the semolina and tahini at Middle Eastern markets, natural-foods stores or even in large supermarkets, often located with other Middle Eastern ingredients.Nutrition: Please note that the nutrition label provided is an estimate only. It will vary based on the specific ingredients used. This recipe is estimated for 16 servings if you cut the sheet into 16 squares.
*Recipe taken from feelgoodfoodie.net
We should always be open to trying new things, especially foods from different cultures. It will surprise your taste buds, and help you to explore new and interesting ingredients. In this case, I will use ingredients that I am already familiar with, to make something totally new! I had to thank her for the inspiration that has led me to write this, and it will be a recipe that I will use to impress her at my house over coffee;) I hope you all enjoy your night. Happy Thursday everyone!